SEAMLESS GUTTER INSTALLATION ACROSS UPSTATE, SC
Protecting your home or business from the elements with seamless gutters
Gutters play a critical role in controlling water runoff from a home or business. They do far more than merely transport water from your roof to the ground: they prevent erosion around the building, water intrusion into the building, and damage to the foundation and floor framing.
HMC Gutters prides themselves on manufacturing and installing premium seamless gutters. Seamless gutters are less likely to leak as there aren't as many connection points for water to penetrate. All in all, seamless gutters are more resilient than sectional gutters. HMC serves clients all across the Upstate and surrounding areas.
Types of Seamless Gutters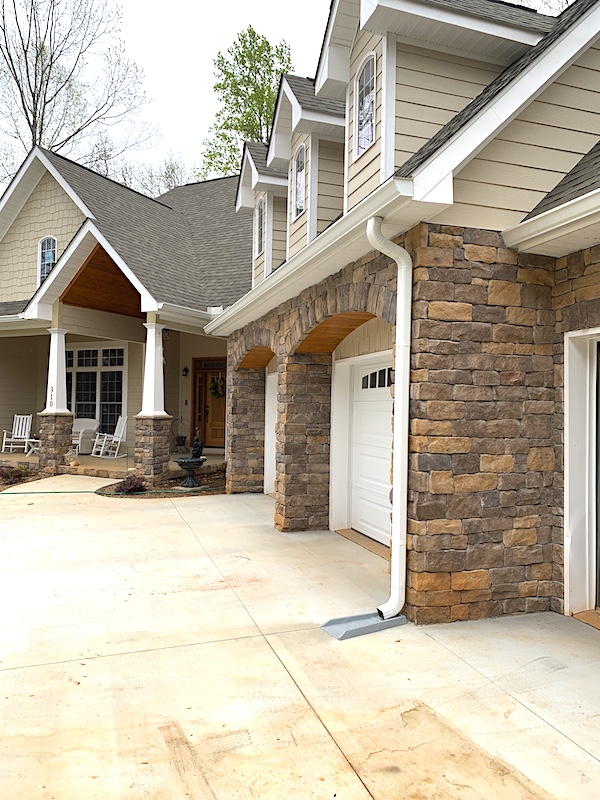 K-Style Gutters
Also known as Ogee gutters, K-Style are the most common gutter on the market, accounting for nearly 80% of gutters installed today.
Benefits of K-Style Gutters:
Generally hold more water than rounded
Strong and durable
Less likely to bend or protrude when impacted
Typically less expensive than half round gutters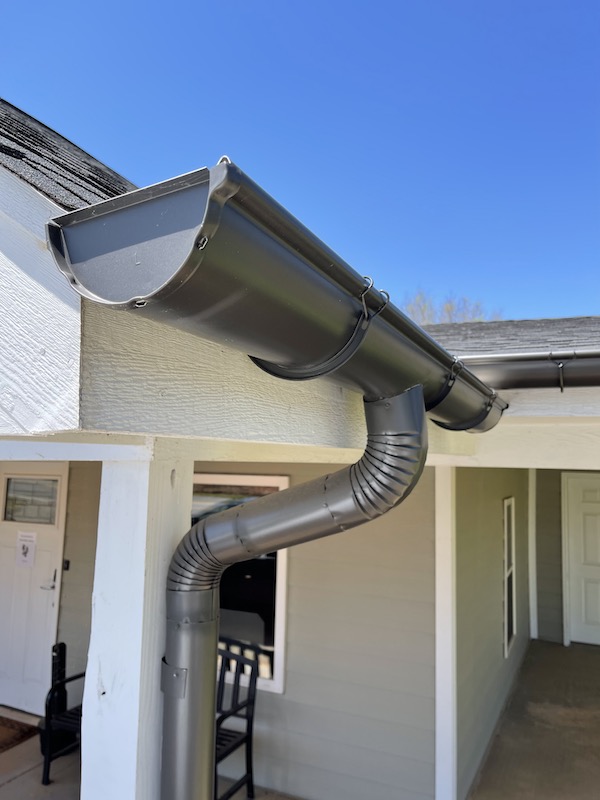 Half Round Gutters
A premium product for your home, Half Round Gutters are more historic and decorative than K-Style. This product offers styled hangers that can be hidden within the gutter or can add decorative detail to the outside of the gutter.
Benefits of Half Round Gutters:
Distinctive styling and character
Debris flows more freely
Fewer clogs
Multiple styles & finish options available
To find the color that would best fit your home or business, click here.
Gutter Sizes and Downspouts
Gutter Size
The majority of gutters measure 5 or 6 inches. 1 linear foot of 5-inch gutter holds 1.2 gallons, while 1 linear foot of 6-inch gutter holds 2 gallons of water.
However, there are two key factors that will need to be adjusted for when determining square footage of drainage for a gutter: the roof's pitch and maximum rainfall intensity in your area. Steeper roofs and intense rainfall call for larger gutters.
Half round gutters are a premium product for your home being more historic and decorative than the traditional K-Style. This product offers styled hangers that can be hidden within the gutter or can add decorative detail to the outside of the gutter. 1 linear foot of half round gutter holds 1.2 gallons of water.
Downspouts
Downspouts are a bit more straightforward, as standard is 1 downspout for every 20 feet of 5-inch gutter and 1 downspout for every 30 feet of 6 inch gutter.
2 x 3 downspouts are relatively common, but 3 x 4 downspouts are the standard in the Southeast. These carry significantly more water to the ground and typically look better on the home's façade.
Round downspouts offer an appealing esthetic feature. They are becoming more common as they not only offer a different look, they can also make it easier to get around architectural details. Round downspouts are not solely installed on half round gutters as they are great for K-Style as well.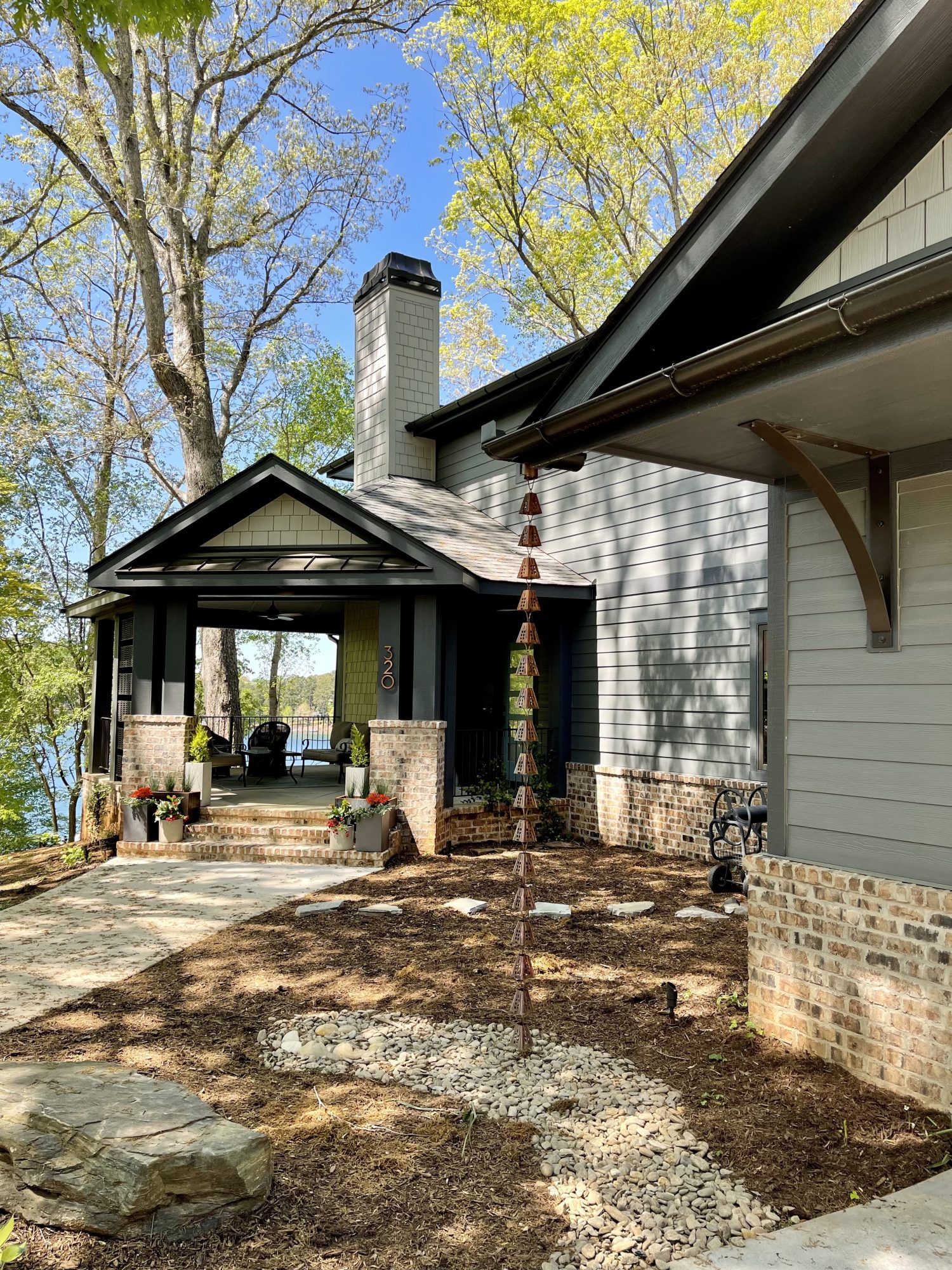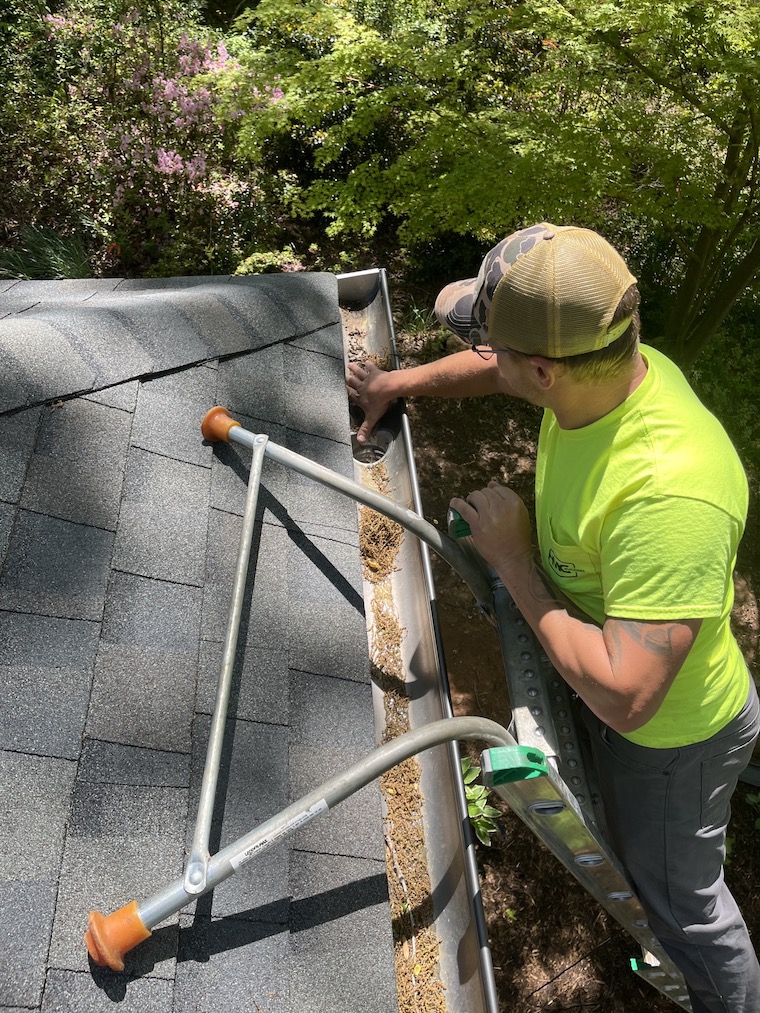 Even if a gutter has quality gutter guards, gutters still require maintenance to prevent leaf and debris build-up, and to extend the life of your gutters. Debris tends to build up in the inside corners of gutters and in roof valleys which can lead to gutter overflow and roof damage from water damming. In addition, some gutter guard inserts need to be removed and cleaned regularly to keep the gutter running clear.
HMC recommends at least 2 gutter inspections per year. Please let us know if we can help you maintain and extend the life of your gutters.
Gutter Guards
There are many gutter guards available, but there are three primary types.
Perforated Metal Gutter Guards-
Recommended and pictured.
They can vary in style but are essentially a flat plate with perforations that cover the top of the gutter. They simplify cleaning by not allowing the debris to collect inside the gutter. Debris is usually visible when it accumulates, letting owners know when they need to do maintenance. Maintenance is simplified by allowing the debris to be blown or swept off the top of the gutter guards. They can also be easily removed if interior cleaning or repairs are ever needed. Here at HMC Builders we found these tend to work the best and have the best return to investment.
Solid Cover Gutter Guards-
They rely on a natural attraction of water to follow a curve in the metal or plastic cover into the gutter while debris falls off the front of the gutter. These types of guards do have some disadvantages; A dirty gutter cover interferes with the water's natural attraction sending the water over the front lip of the gutter, debris still tends to build up in the inside corners and because these types of guards are often sold as maintenance free this isn't noticed until it has caused a leak or rot. Maintenance is difficult when the guards are not easy to remove and reinstall. They can also interfere with the shingles and the roof warranty. Unfortunately, no gutter guards are completely maintenance-free despite what some advertise.
Wire Mesh Gutter Guards-
An expanded wire mesh or other material with large holes placed over the gutters. They allow smaller debris in but prevent larger leaves form entering. Most mesh styles are on clips that allow them to be flipped forward to clean and flipped back in place after cleaning. Debris tends to get impacted in the mesh. This type can be helpful in certain scenarios but doesn't change the amount of timing or maintenance of gutters.
" HMC have been hands down the best construction company I have ever been involved with. I have worked in construction and their 'get it done right' attitude left me with a job done right. They are knowledgeable in all areas of construction, but we were particularly happy with our guttering. There were no pushy over sale add-ons; in fact the opposite, HMC was very honest when discussing our needs. I have used HMC several times now and they have my business from here on.
– Nick Whitrow